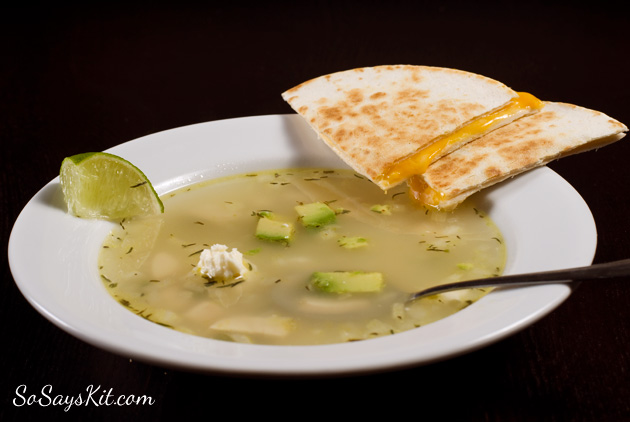 Meal Plan:
Mexican Lime Soup with Quesadillas

Take out a pan and put it over medium heat. Take a tortilla and place it in the pan. Sprinkle some shredded cheese* on tortilla and cover with another tortilla. Wait a minute or so until the bottom is golden brown and the cheese has started to melt. Flip. Remove to a cutting board to cut. Repeat for as many quesadillas as you need.

*Always shred your own cheese. Pre-shredded cheese may seem like a great time saver but it is gross. It is covered in cornstarch (if your lucky it will just be cornstarch and not a mess of other 'anti-caking' ingredients) to prevent sticking. So what? Well that cornstarch also prevents it from melting properly resulting in a globby, powdery mess instead of ooey, gooey, deliciousness. It takes about 30 seconds to grate your own cheese and it will also save you a lot of money. Like snacking on those packaged cheese cubes? Try buying a block of your favorite cheese and cutting it into cubes at home. It takes literally a minute. Put the cubes in a baggy and they are ready for snacking. And surprise, no more nasty anti-caking ingredients!

Tacos with Black Beans and Cilantro Lime Rice

Black Beans: Drain and rinse 1 can of black beans and put in a small saucepan. Add about a cup of broth or enough to almost cover beans. Add whatever seasonings sound good I usually add a little cumin, celery salt, coriander  garlic powder, and sometimes cayenne pepper. Let simmer for 15 minutes or until beans are heated through and liquid starts to thicken. Turn heat to low and allow liquid to thicken to preferred consistency. You can mash up the beans at this point to make a refried bean type consistency but I usually leave them alone.
Cilantro Lime Rice: Prepare rice to package directions (I usually use brown rice). When cooked and fluffed add about a tablespoon of lime juice and the zest of 1 lime and a tablespoon or 2 of chopped cilantro (I'm not a fan of cilantro so I substitute parsley). Add salt and pepper to taste.

Apple Wood Smoked Brats with Red Cabbage and Herb Potato Salad

The Red Cabbage is my mother-in-laws recipe and I believe it is Danish. I'll have to see if she will share it. All I know is it is delicious and has red cabbage, apples, and red currant jelly.

Pasta with Fresh Tomato Sauce

This continues to be a really great fast and easy meal.

Chicken Noodle Soup with Homemade Noodles 

I left out the chicken bouillon because I found we didn't need it with our homemade chicken stock. Also, it is nearly impossible to find bouillon without MSG , milk/soy protein isolates, etc. which we avoid.