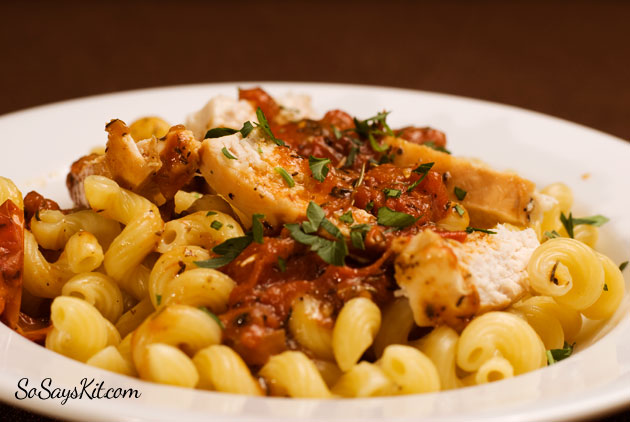 I can eat soup any time of year. I think it is the absolutely most perfect meal. It's a great way to stretch a buck and is usually loaded with vegetables. You can find a soup recipe for whatever you have in your pantry and refrigerator and can throw it all in a pot and leave it alone until you are ready to eat. It's so easy and cost effective to make a big pot of soup. Can't use it all immediately? Freeze it and have a night off from cooking in a week or two! I would never buy canned soup again.
Like I said, I'm a big soup fan any time of year. The rest of my household however likes to stick with cooler options during the summer. Last week we all ended up with a summer cold and although the temps outside hit 100 nearly everyday, we were stuck inside in the cold a/c wiping noses and snuggling under blankets. I don't care how hot it is, when I'm sick I'm making soup. So I made it twice. Summer colds cured! The Roasted Vegetable Minestrone is especially good even in the summer because it has such fresh flavors and is loaded with end of summer vegetables.
Meal Plan:
*French Onion Soup with Cheese Toasts
*Roasted Chicken and Tomato Pasta with Salad
I used the the recipe for the Chicken with Herb-Roasted Tomatoes and Pan Sauce and I broke down the tomatoes a little more and just served it over pasta. It needed a little more sauce so I'd suggest thinning it out with some broth and breaking the tomatoes down even more.
*French Dip Sandwiches with Steamed Green Beans and Sweet Potato Fries
I used the left over French Onion Soup for the au jus and deli sliced roast beef. I like to melt some yummy cheese, like provolone or havarti, on top right before serving.
*Roasted Vegetable Minestrone with Bread
*Greek Chicken Wraps with Sweet Potato Fries
Tortilla wrap spread with hummus and topped with leftover roasted chicken, lettuce, tomatoes, and whatever veggies I have in the refrigerator (shredded carrots, mushrooms, leftover roasted vegetables, etc.). Drizzle with a little vinaigrette before wrapping and serve.