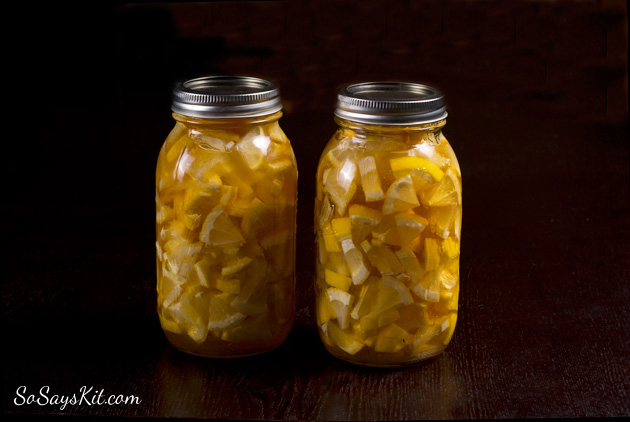 We have been feeling so sickly the last few weeks and I don't know about you but when I have a sore throat all I want is something warm and soothing to drink. I have always been a huge fan of herbal tea and hot chocolate. A lot of my earliest memories are of my mom making me some Sleepy Time tea with honey before bed or snuggling up with her and a big, fuzzy blanket on the couch watching a movie drinking our tea and eating saltine crackers. Another childhood favorite was when Grandma Brown used to make me hot water and lemon when I was sick and it was so soothing to breathe in that citrusy steam.
This throat tonic is an amalgamation of several things I've run across. It combines honey, lemon, and ginger in a delicious, soothing syrup that you can mix with hot water to drink as a tea-type beverage or take a spoonful as a throat soothing cough-syrup. Using local raw honey gives you a huge boost in health. It is antibacterial, a disinfectant, full of nutrients, and can even help with seasonal allergies. Lemons are also antibacterial, antiviral, immune-boosting, aids digestion, and can even lower a fever. Fresh ginger aids digestion and nausea, clears sinuses, and is anti-inflammatory. If anything could be a magic cure for the common cold, this is it.
I made a small jar of this and couldn't wait the few weeks for it to break down. It still worked amazingly well to soothe my throat,  headaches, and chills. Between the kids and I, we almost used up the small jar I made before I decided I better make two more jars and make them big. It is crazy simple to make and there are no crazy ingredients. I didn't measure so please forgive the approximations. You will need a bunch of lemons (2 for a small jar, up to 4-5 for a large jar), a good amount of local honey (a cup more or less for a small jar and 2 cups for a large jar), and some fresh ginger (I used about an inch but I'd probably double that). That's it.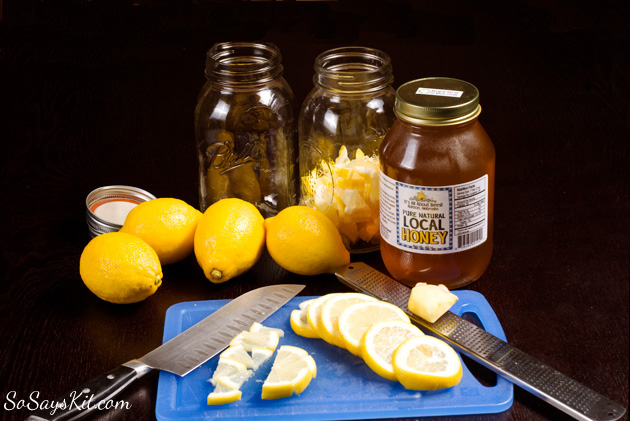 Chop your lemons. I sliced my lemons and then cut the slices into 6-8 wedges.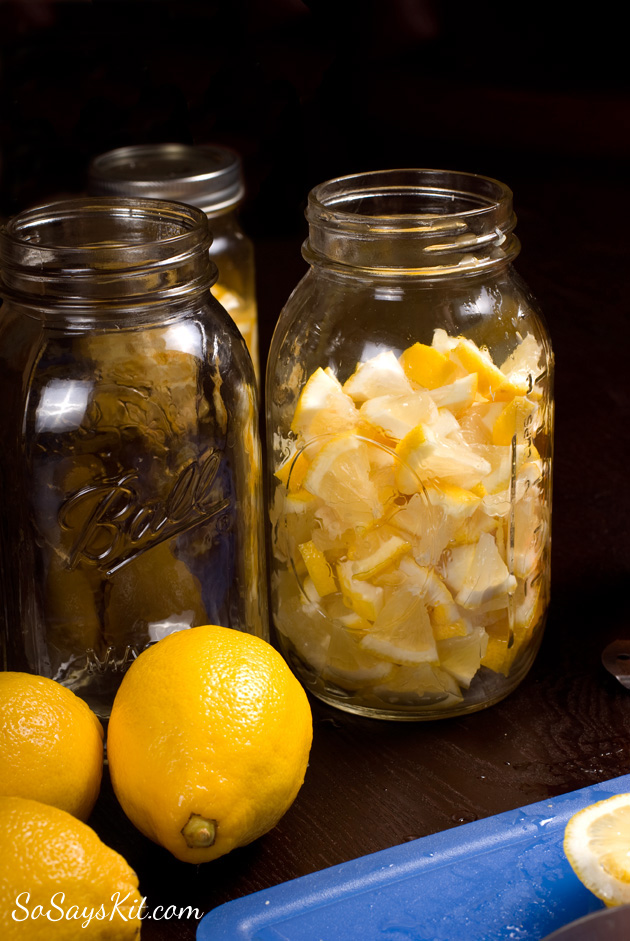 Next, peel the ginger and grate some fresh ginger right on top of the cut lemons. I used a microplane because it gets it very fine. (Please ignore my weird-looking hand.) Add as much as you feel like you can handle. I added about 2 tablespoons but I wish I had added quite a bit more. I'll probably add another 2-3 tablespoons but I really like ginger.
Now pour your honey over the top. You'll want to add quite a bit of honey. At least enough to fill the jar about 1/2 way. Pour slowly, I had some issues with spills.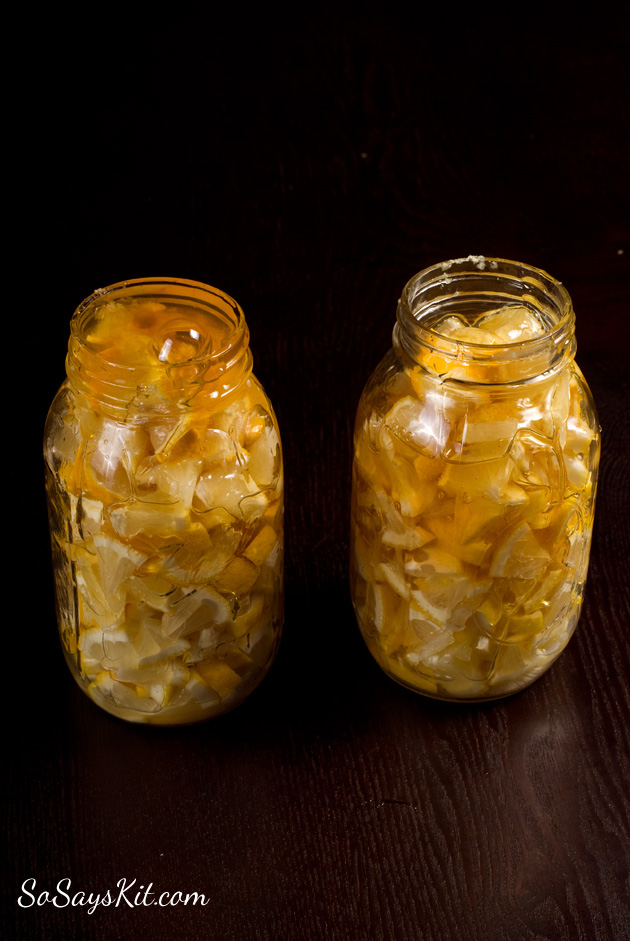 As the honey moves down through the lemons you'll notice it start to thin out and move more quickly. That is the honey starting to pull out the lemon juice. As it sits it will pull all the juice out of the lemons and they will begin to break down.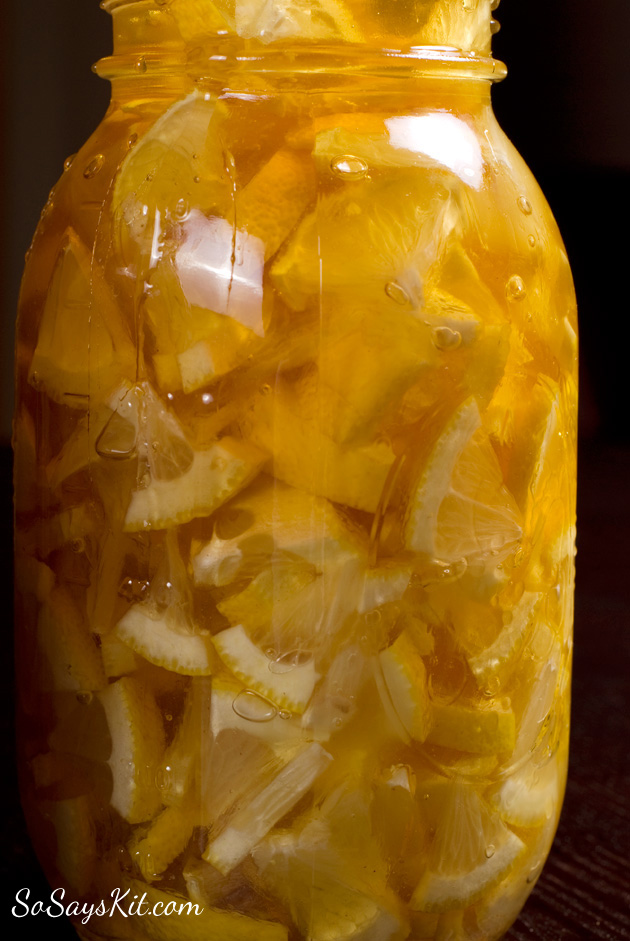 Slap a lid on, shake it up a bit, and you're done! You can go ahead and use it right away and it will be a really thin, syrup and have a mild flavor. If you let it sit in your refrigerator or in a cool, dark cupboard for a few weeks the lemons will break down and the syrup will thicken up again and become almost like a marmalade. My favorite way to use this is to put a tablespoon in a mug and pour hot water over. You can also take a spoonful like a cough-syrup, which is how Dex and Veda have it since they don't like to drink warm things quite yet.
Over the next few weeks, I'll be posting some of our other diy cold remedies:
Eucalyptus  Soothing Shower Disks
Homemade Vapor Rub
Lavender Chamomile Heating Pad
Deodorizing and Disinfecting Room Spray