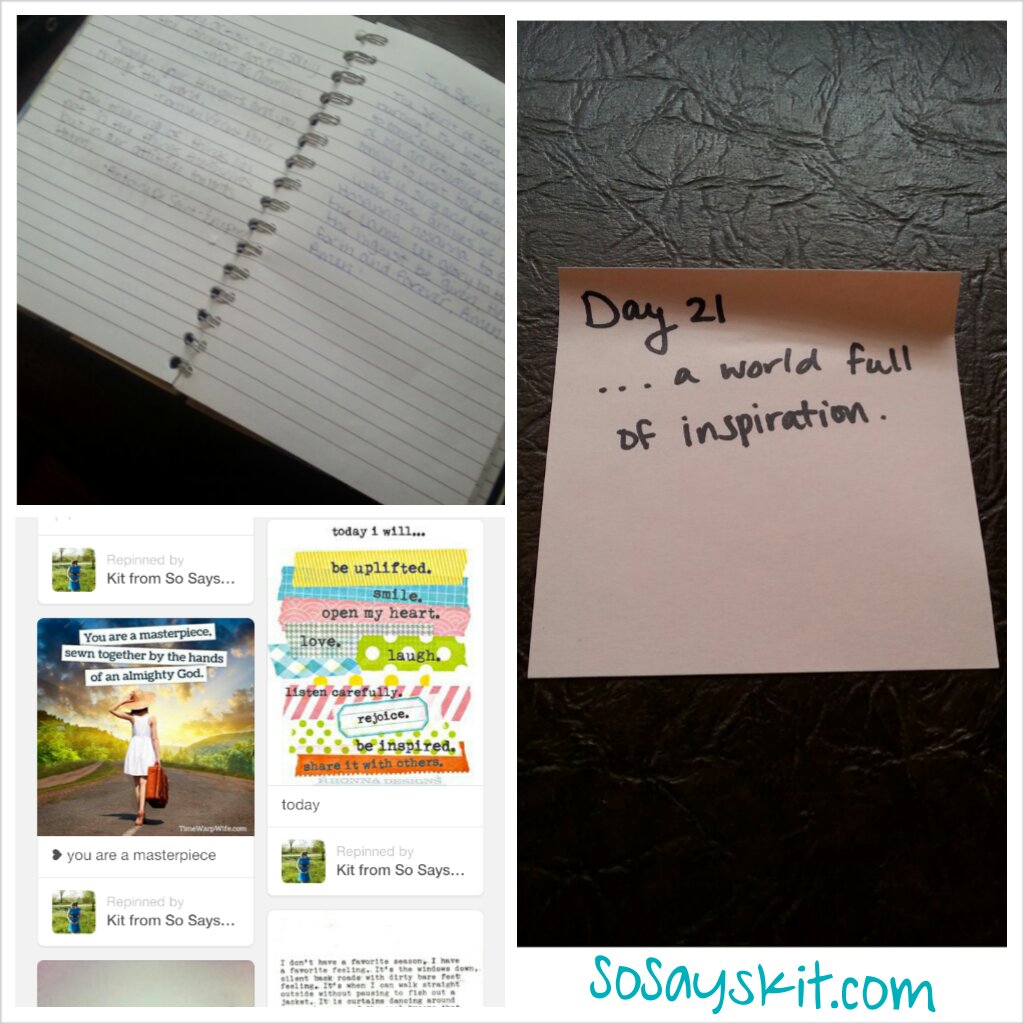 I couldn't sleep last night. There was so much negativity in my head and in my heart that I could barely be still. So I prayed. I cleaned and did some laundry. I watched tv. I tried to read. I made lists. I wrote letters. I got on Facebook and Instagram.
It wasn't until very early this morning when I just tried to be still again that I finally felt that shift. Just enough that I remembered my old inspiration journal from when I was going through so much as a teenager.  It was my Pinterest board before the real dawn of social media. I flipped through the pages remembering why I chose those items to include. I traced the loopy, teenage cursive words that brought me comfort. My favorite hymn, a photo of a beautiful sunset that I got my car stuck in mud to capture, something my dad said that struck a chord and was so hurriedly scribbled that it's barely legible. A promise to myself to always be brave. Quotes that helped me heal and inspired me to learn and grow and want to inspire someone else.
I got on Pinterest to see what I felt important enough in this part of my life to pin on my Uplift/Inspire board and was pleasantly surprised by what I found. I thought I had abandoned my inspiration journal long ago but it just evolved as I did and as technology moved on.
Doing this project was supposed to help me see the day-to-day blessings and inspire me to be more conscious in what I'm letting be part of our days, into our life.
The past few days have been hard. There is so much that goes on behind the scenes to keep people going. Even consciously choosing how I react to things and choosing to see the blessings in a situation isn't enough sometimes. When everything is one step forward, three steps back. It was too much yesterday. Too many outside events and situations and influences and problems.
But revisiting the things that brought me comfort during one of the darkest points in my life and seeing how far I've come, my desire to constantly be the best I can be while living in each moment… I feel so calm and reassured. We are on the right track. We are where we're supposed to be. There are obstacles in our path but they are also opportunities to rise to the occasion.
I'm thankful for inspiration all around. Taking the time to be inspired. Taking the time to be still enough to hear a whisper that life is a journey to enjoy. An opportunity I'm grateful for.
If you'd like to read how this project began, click here for the first Thanful All Year post.