Here are some highlights from Dex's 5th birthday party. He has been a fan of adventure for a long time and recently we introduced him to Indiana Jones. Holy cow! His little mind was blown. I got pretty much all of these ideas from various sources on Pinterest with most of them coming from this blog.
Kai dressed up as Indiana Jones and gave the younguns some lessons on how to be adventurers. After they completed each lesson they received a clue to find a treasure.
Lesson #1: Adventurers can't find a treasure without a map. Mark your path to begin our adventure!
Kai had roughed out maps on butcher paper and the kids filled in their route with red marker, a la Indiana Jones travel transitions.
Lesson #2 Explorers must be quick on their feet. Each of you must steal the golden idol, replace it with the bag of sand, and run before being hit by the boulder! Once each explorer has accomplished this task you will receive the next clue.
We had the 'altar' hidden in our garage and made it a big reveal when we opened the garage door. Our golden pineapple housewarming present to ourselves stood in as the idol. It was a pretty easy task to avoid the exercise ball boulder but imagination was the best part of the party. Kai said this was his favorite challenge because he got to throw the exercise ball at all the kids, hahaha!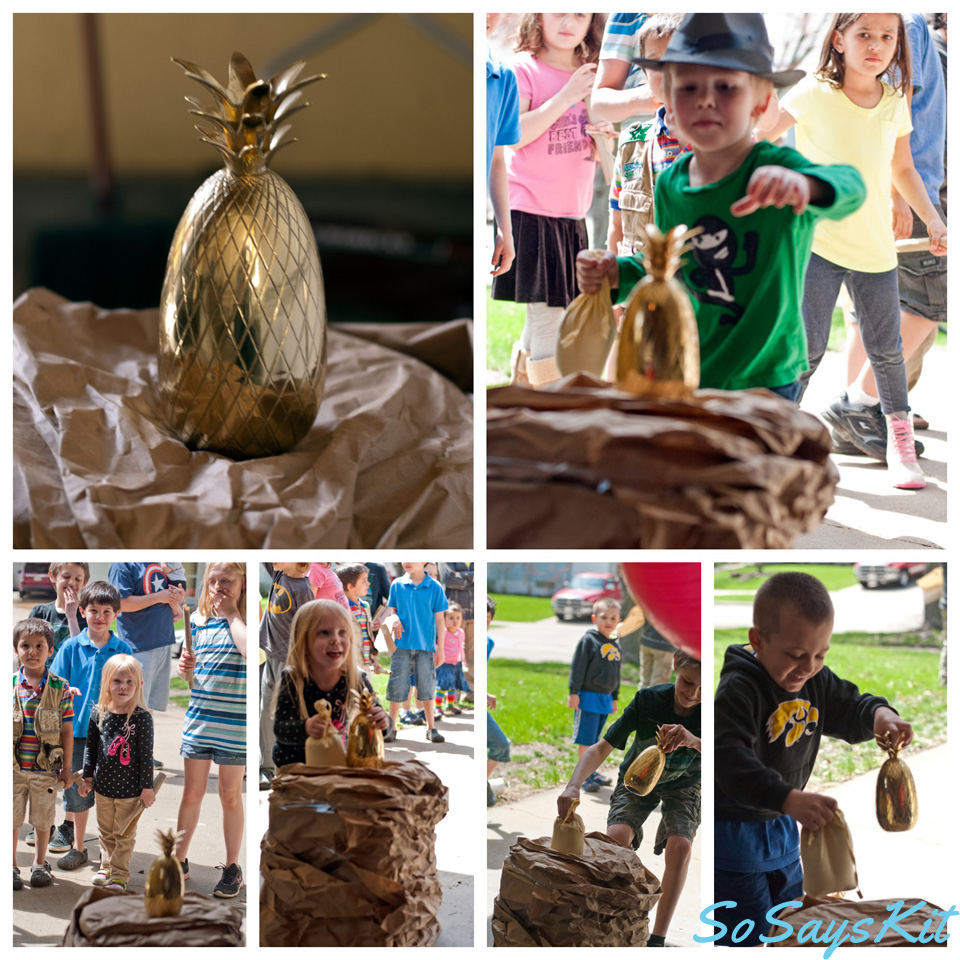 Lesson #3: Creepy crawlies happen to be part of every treasure hunt. Each of you must crawl through the snake pit and spider web to get the next clue.
The snake pit and spider web had several incarnations before we were forced to abandon our grand ideas and go with something simple. Veda said this part was her favorite challenge of the party.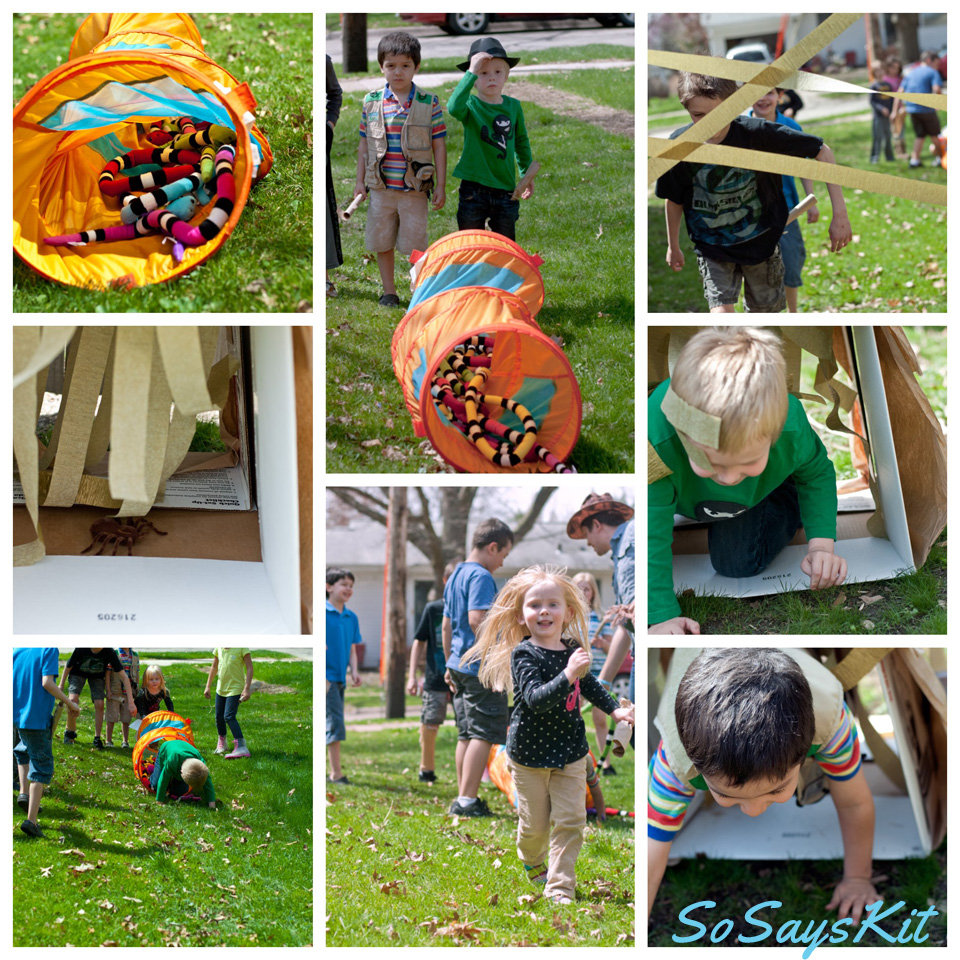 Lesson #4: Explorers must be ready to evade enemies at any time! You have 1 minute to find a disguise before your new passport photos will be taken.
We had a basket of hats and other accessories inside the little play house. We didn't expect to have 13 kids so it was a little crazy to have them all grabbing their disguises. This was one of my favorite parts of the party.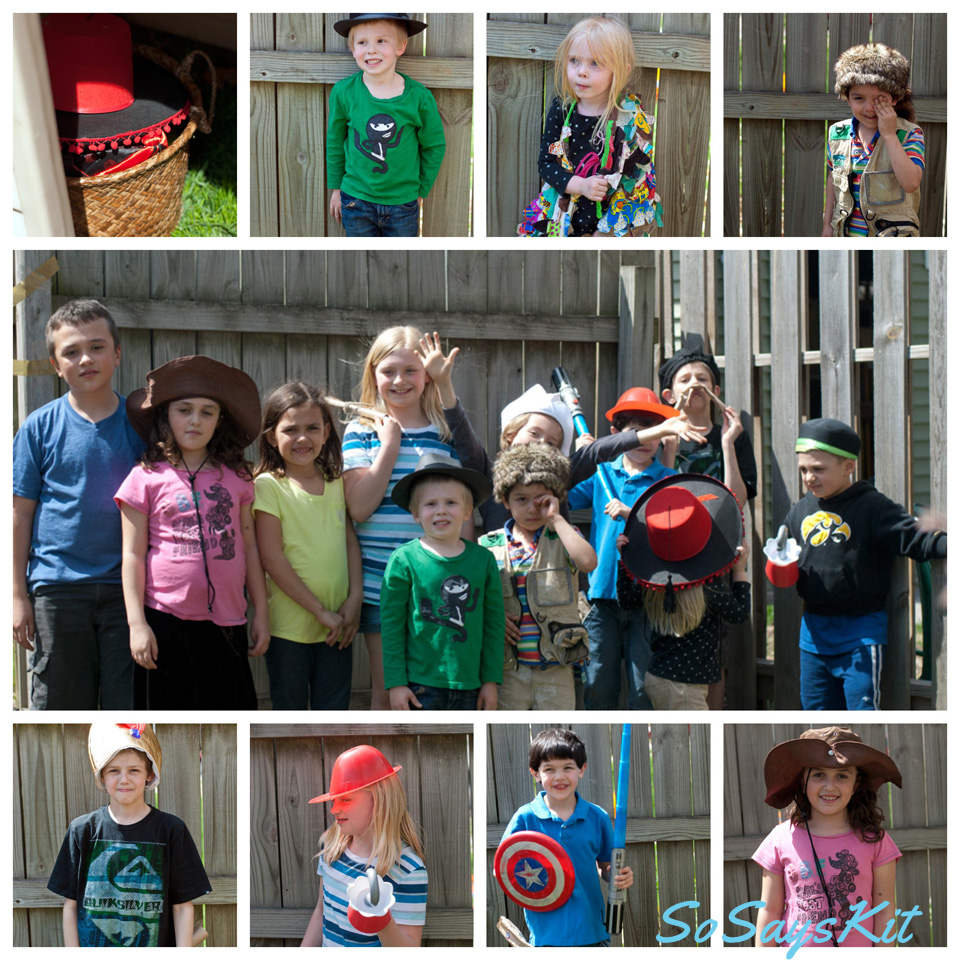 Lesson #5: It's time to cross the alligator river! Run across the bridge without falling to receive the next clue.
This is where the awesome water blob came into play. We got the tutorial for it here and it really was crazy easy. The longest part was waiting for it to fill up. Some tips for next time though: use 6 mil instead of 4 mil and don't have 13 kids ranging in age from 18 months to 12 years old play on it if you want it to last more than an hour. It didn't last long but they had a ton of fun while it did. I was just glad it lasted through the challenge!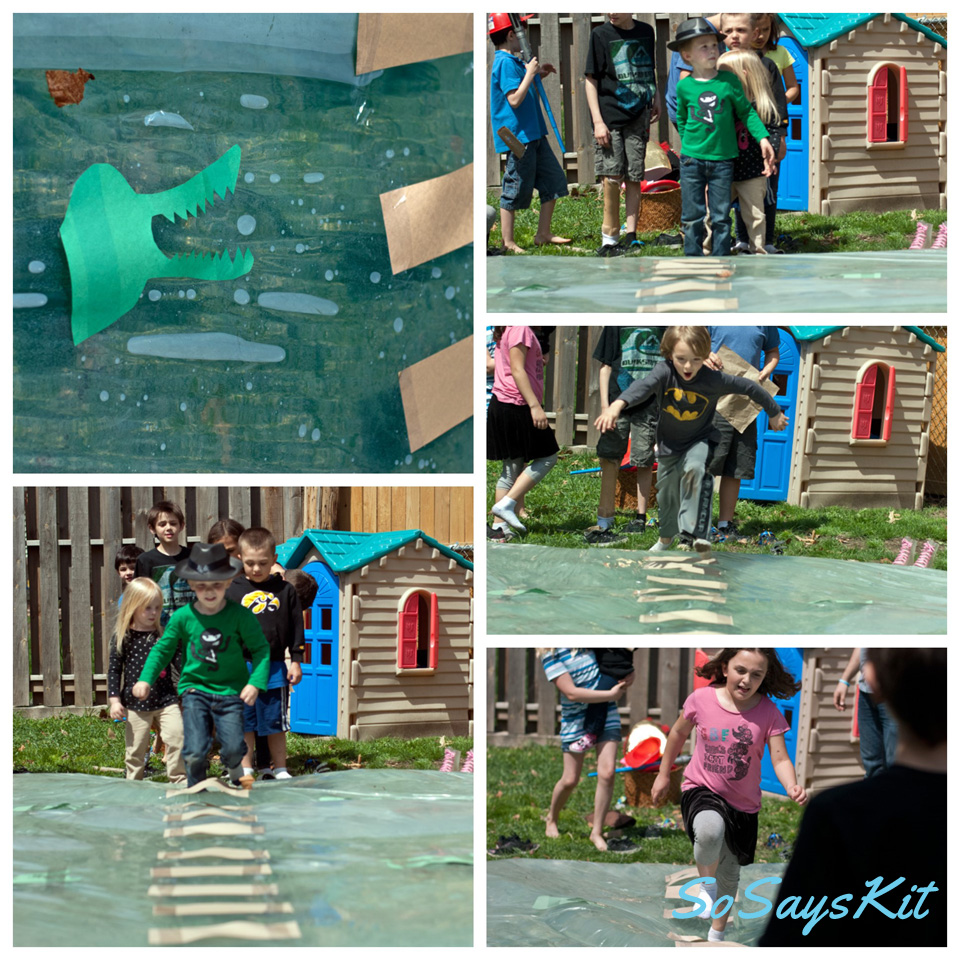 I didn't get many pictures from the rest of the party. My camera was acting up and things got really crazy with that many kids!
Lesson #6: Head to the sands of Egypt for an archaeological dig. Once everyone has found a gold coin you will receive your next clue.
This was just a sandbox with gold pirate coins, fake diamonds, brooches, etc. hidden in it.
Lesson #7: All this work makes an adventurer thirsty! Head to the table for a special drink…
OH NO! You've been poisoned! Quickly find your antidote before it's too late!
We had a table set up with dixie cups of Izze sparkling juice. For the antidote I put the same juices in little vials. This was Dex's favorite part of the challenges because he got to pretend to be poisoned.
Lesson #8: *An explorer must know how to use a whip. Each of you must practice knocking over targets. Once each of you have mastered the whip you may move on. *As an adventurer you might have to avoid poison darts from the natives. You must learn how to use blow darts. *Adventurers must think on their feet. Sometimes they need a distraction. Use these pom guns to send up a flare.
*We printed off Lego Indiana Jones villains and taped them on empty cans for whip practice. *The blow dart guns were made from 1/2 inch pvc pipe cut to 12 inch lengths, sanded, and wrapped in duct tape to look like bamboo. The darts were velcro Nerf darts. *The pom guns were made using this tutorial by cutting pool noodles to ~4 inch lengths and then covering one end with a balloon and taping it in place with some duct tape. To send up a flare you just put a few craft poms (or mini marshmallows supposedly work too) and pull and release the balloon. (I just realized that I put the balloons on wrong but they worked great anyways, haha. I cut a little off the open end and stretched it over the pool noodle instead of tying it off and cutting the round end and attaching that end to the pool noodle. The tied off end would give a better handle to grab to release the poms but just pinching the balloon end worked fine. Oops.)
Lesson #9: Well done adventurers! You have found all the clues and it's time to finish this mystery.
We had a treasure chest filled with some random things I spray painted gold, necklaces, bracelets, rings, mini flashlights, mini compasses, etc. We didn't get a photo before the spoils were divided amongst the adventurers. After the treasure was pretty well demolished we put out a snack of fruit, cheese, crackers, water, and more Izze drinks. The kids snacked and played with the different parts of the adventure course. Then we called them around for cupcakes (Dex has had banana cake for his birthday cake every year so far and I plan to continue that tradition.). For those I just decorated them with some of the gold pirate coins I had got for the treasure box.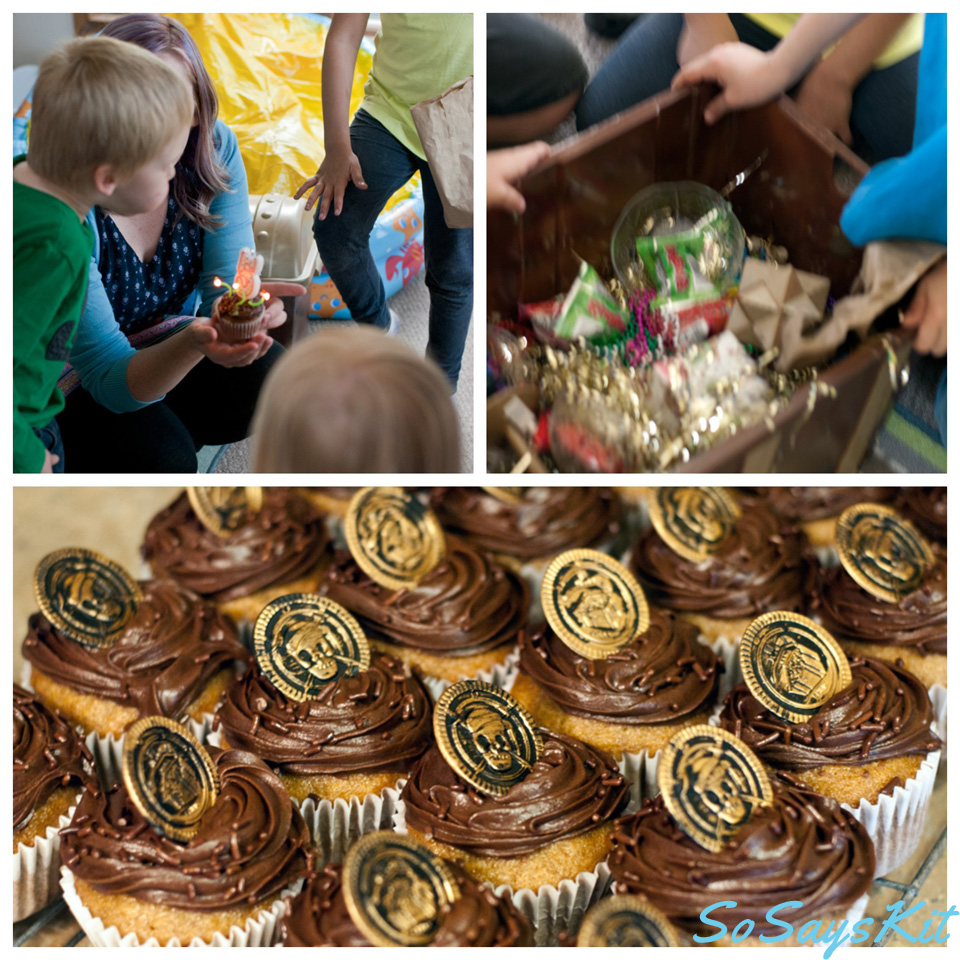 It was a pretty awesome birthday party and even though it's not really our 'thing' to do big parties it was so worth it to see Dex having such a great time!
Thanks everyone who came and made it so amazing! We love you guys!
Dex, you're the best 1st bear cub we could have asked for! We are so blessed to have you in our family.
*I bought all the coins, jewelry, and most of the hats from Oriental Trading Company. The pvc pipe from our local hardware store, and just about everything else from the Dollar Store.