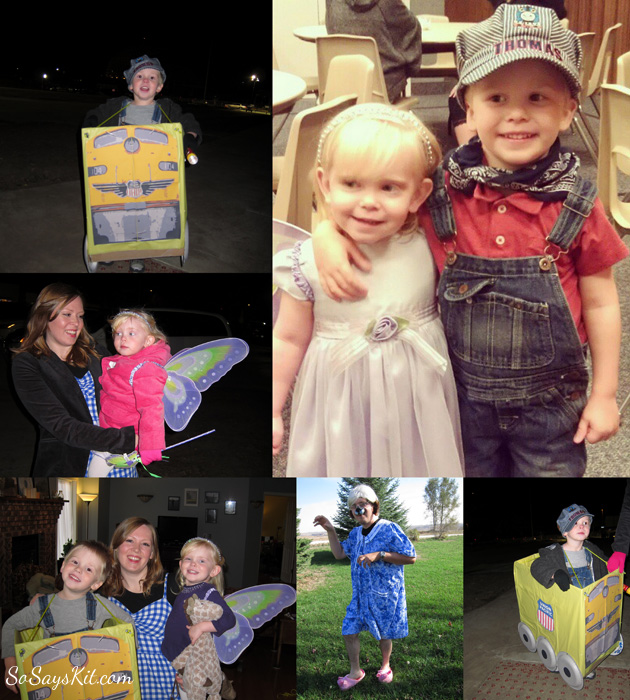 *Pictures from the 2 other trick or treats we went to. I'll probably upload some from tonight later.
We went to the Halloween party at church last Wednesday and it was a really fun trial run for our costumes! We got to hang out with a lot of kids from church and eat cookies and hot chocolate and then go Trunk or Treating. I'm sure everyone knows about Trunk or Treating and it's pretty self explanatory. You decorate your trunk and everyone parks together in a line and the kids go from trunk to trunk begging for candy. It's an especially great way for the youngest ones to have a fun trick or treating experience without having to fight large crowds of older kids going house to house. And since everyone is parked together the little ones also don't get worn out before they've gotten enough candy to satisfy Mom and Dad for a while.
We also went to the Omaha Henry Doorly Zoo's Spooktackular Trick or Treat event which was AWESOME! It was a ton of fun to be at the zoo after dark with spooky music, creepy lights, and all the buildings open for special night viewing. They had a ton of local businesses set up for trick or treating in one of the common ways and the kids had a great time. Another really great way for little ones to trick or treat without getting bored or overly tired.
We had a lot of fun making our costumes. I decided on Little Red Riding Hood because I had a dress and basket that fit the bill and had planned to make a cape but ran out of time. Walmart to the rescue. Kai decided to be the Big Bad Wolf dressed as Grandma because we had a housecoat from my Grandma and we got a wig, some ears and teeth, and piggy slippers. With Kai's scruffy face and hairy legs it was perfect. Dex had decided on being a race car driver and Veda wanted to be a princess. Then about a week before the party they both changed their minds. Luckily for me the main idea was pretty much the same. Dex wanted to be a train engineer and Veda wanted to be a fairy princess. For Veda all we had to do was get some cute fairy wings, a tiara, a wand, and some glitter. We put her in one of her princessy dresses and added her accessories and she was good to go.  We never did find a tiara without a bunch of stupid Disney commercial crap all over it so I just found a sparkly headband and we couldn't find any glitter but Veda was happy.
We had planned on making Dex a race car out of one of the large cardboard boxes we had sitting out in the garage so making a train seemed like it would be even easier. We already had overalls, a shirt, hat, and bandana for his costume. Here's what we did to make his train. First we found a medium-large rectangular box. We folded in the top flaps and taped them down to give it a little stability and pulled the bottom flaps out and taped the sides together to further stabilize. At this point we tried to spray paint the outside of the box. Absolute disaster. I was afraid we'd have to scramble to find another box that size because it was a soggy, splotchy mess. I'm not sure if our spray paint was no good or maybe it was too chilly to spray paint? In any case, that was pretty much my only plan for the train so we went back to the drawing board. We thought about getting a roll of colored paper to tape on or maybe taping construction paper on but it was drizzly out and I was worried it would just turn to mush and fall off. We finally decided to try one of those cheap disposable plastic table clothes. I just stapled it around the box, overlapping to the inside a little. Then we had planned on painting on the Union Pacific logos on the front and side. Since we weren't sure if paint would stick very well to the tablecloth we were again back at square one. After some debate back and forth on possible options I remembered seeing some 81/2 x 11 size printable label sheets. We bought a package and found a few photos of Union Pacific logos online. For the front of the train, we wanted it to have an illustrated look, like a children's book. So Kai traced the image in Illustrator (an illustration or vector software) and we divided it into four 81/2 x 11 size pieces so we could print it on the label paper and still have a large enough image. We cut out the images and matched them up on the front of the box. For the side logos we just printed them straight onto the label paper and cut them out.  Next, we made a hole at each top corner of the box and inserted some rope long enough for Dex to be able to have his arms out but keep the box up off the ground. We wrapped the ends in a little duct tape and tied them into knots. Lastly, we spray painted some heavy cardboard paper plates silver and filled the centers in with a black sharpie and attached to the bottom of the box with metal paper fasteners (the kind that look like tacks but the pointy end is two pieces that fold outward). Voila! It was totally worth it when Dex put it on and ran around the room yelling Choo-Choo!
Tonight we will be heading out for our third and final run at trick or treating this year. I hope you all have a safe and fun Halloween!