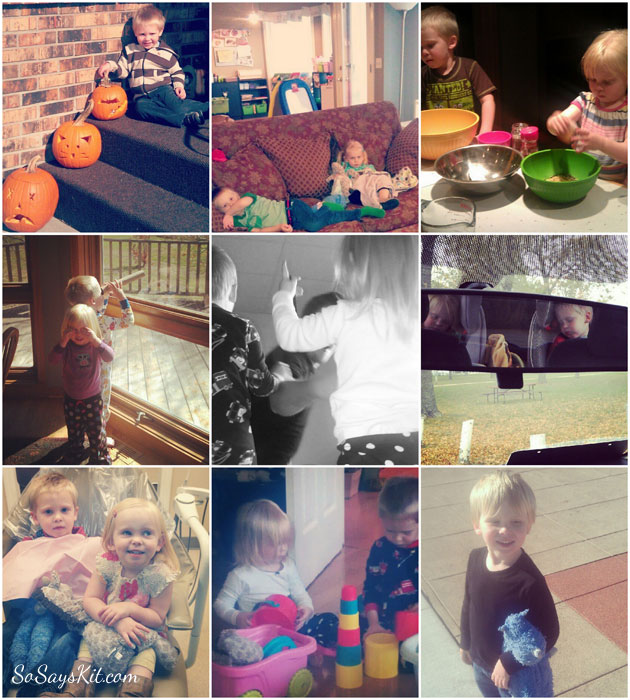 Awkward:
My super freakout on the kids when they dumped all of our toy bins and tot school supplies in a pile on the floor for the third time that day. I was so upset I think I was breathing fire. All I had to do was look at them and they scrambled straight to time out and then helped me clean up without me even asking. If only I could work that 'mom look' on command.
Dex had to potty while we were out running errands so Kai took him to the nearest restroom only to realize about 5 seconds later that it was the women's restroom. No one said a word to him though.
Dex keeps calling people 'pig face'. I'm pretty sure I know where he heard it <cough><nursery> but it's pretty annoying. Though it could definitely be worse.
I think I've had more corn syrup and yuck in the last week than in the last 3 years combined.
A week later and I'm still singing "Little Red Riding Hood"
Awesome:
Another season of Psych on Netflix! Yay! My midnights are filling up again.
The pumpkin angel food cake impulse-buy from Whole Foods wasn't great apparently because Dex said, "this is not food. this is like cake but it's not good like Mommy's cake. Mommy, you make me a cake?" That's the way to make my day!
Trick or treating with older toddlers. People still think they are adorable and so are extra nice to them and the kids are old enough to be super excited but not greedy.
My husband is ridiculously good at telling bedtime stories. Dex will say something like, "Daddy, please you tell me a story about goats?" And suddenly we have a new favorite story about goats.
There is a week left for Kai's kickstarter project, Jumping Fences, and we are 45% funding. Please be a part of this project and tell your friends to back it too.